All Are Welcome Here!
Old St. Joseph's Roman Catholic Church is Philadelphia's oldest Catholic community. It was founded by Jesuits in 1733 and is still staffed by Jesuits and their lay colleagues. The community has been in continuous existence since 1733.
The parish is located in the historic Society Hill section of Philadelphia, just two blocks from Independence Hall.
Just as Society Hill is a vibrant, growing, and diverse urban neighborhood, the Old St. Joseph's parish community is vibrant, growing, and diverse. Nearly half of the parish's 1,200 registered members are single persons, though more and more young families are joining the parish community. Old St. Joseph's draws parishioners from across the Philadelphia metropolitan area. All persons are welcome at Old St. Joseph's. Parishioners have indicated that they are attracted by the welcoming community, the parish's continuing association with the Jesuits and their distinctive spirituality, the parish's extensive social justice and outreach ministries, and the parish's excellent liturgies and liturgical music.
Old St. Joseph's has a long social justice and outreach tradition, devoting nearly 20% of its annual budget to the care of the poor, the sick, and the otherwise disadvantaged. In addition, the parish has developed education, hospitality, faith formation, prayer and spirituality, leadership development, and ecumenical and interfaith programs consistent with Jesuit and Archdiocesan apostolic priorities.
Old St. Joseph's has gained a reputation in the Philadelphia area for well-planned and well-executed Eucharistic liturgies, including liturgical music of the highest quality. The parish's musical program draws on the full musical tradition of the Church, from traditional hymnology and Gregorian chant and polyphony, through Taverner and Byrd, to Elgar and Bernstein. Parishioners understand that good liturgical music is music that serves and enhances the liturgy, and that good liturgy is liturgy that promotes the full, active, and conscious participation by the Assembly demanded by Vatican II.
Old St. Joseph's is committed to promoting Gospel values and witnessing to the presence of the beginnings of the Kingdom in our midst. Specifically, we adopt apostolic priorities of the Maryland Province of the Society of Jesus and we embrace its spirituality. We intend that our parish reflect the qualities and characteristics of Jesuit parishes as defined by the Society in its recent General Congregation.
Despite our failings, we trust in the love of God shown to us in Jesus.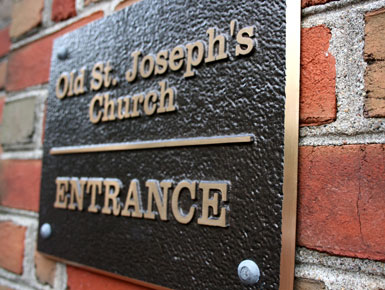 We, the People of Old St. Joseph's Church, desire to be transformed through the action of the Spirit into a community united with Jesus Christ. With our Jesuit brothers, we are called to be companions of Jesus, sharing the mission the Father gave Him. Just as Jesus attended to the will of his Father, we listen to the Word of God; we strive to understand the Word in our circumstances, and we share that Word with others wherever we encounter them.