PREP: Parish Religious Education Program
PREP provides Ignatian-based religious formation to children from first grade through Confirmation (usually eighth grade) not attending a Catholic school. The program has four components:
 Teaching children the tenets and practice of our faith
Guiding children to recognize God's presence in their lives, to develop a personal relationship with God, and to learn to make moral choices based on that relationship
Preparing children for the sacraments of First Reconciliation, First Holy Communion, and Confirmation (those in Catholic school join PREP students in the celebration of the sacraments)
Fostering a sense of community for children and families in the parish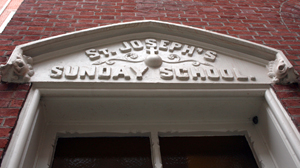 When and where:  PREP classes meet at St. Mary's Interparochial School at 5th and Locust Sts. (enter on Locust) on Mondays from 6:00 to 7:00 PM from September through May.  The children gather in and are dismissed from the multi-purpose room in the basement.
Please Note: As of 2018-2019, the age of Confirmation in the Archdiocese of Philadelphia has been raised. Old St. Joseph's will hold Confirmation in the fall of eighth grade.
Click here to download the PREP Registration Form. It is a fillable PDF form. You can type in the form and save it. Please return the form to the parish office or email the form to prep@oldstjoseph.org.
Click here to download the PREP 2018/2019 Calendar.
For further information on PREP or to become a teacher, contact, the Coordinator of Religious Education, Christine Szczepanowski at 215-923-1733 ext. 123 or 267-250-3049 (cell) or prep@oldstjoseph.org
PREP 2018-2019 Calendar
Tuesday, 9/11/18
6:00 PM
PREP teachers' meeting and dinner with Fr. Modrys
Monday, 9/17/19
6:00-7:00 PM
PREP begins at St. Mary's Interparochial School
SE corner 5th and Locust Streets—Enter on Locust
Monday, 10/8/18
No PREP—Columbus Day
Monday, 11/12/18
No PREP—Veterans Day
Monday, 12/10/18
PREP meets as usual for grades 4-6
grades 1-3 attend teaching Mass at OSJ
Monday, 12/24/18
No PREP—Christmas vacation
Monday, 12/31/18
No PREP—Christmas vacation
Monday, 1/7/19
6:00-7:00 PM
PREP resumes
Monday, 1/21/19
No PREP—Martin Luther King Day
Saturday, 1/26/19
3:30-5:15 PM
Family Activity Day in Barbelin Hall
followed by optional attendance at 5:30 PM Mass
Monday, 2/8/19
No PREP—President's Day
Wednesday, 3/13/19
7:00 PM
First Communion parents meet with Fr. Modrys
in Barbelin Hall
Saturday, 4/6/19
3:30-5:15 PM
Family Activity Day in Barbelin Hall
followed by optional attendance at 5:30 PM Mass
Monday, 4/8/29
PREP meets as usual for grades 1-3
grades 4-6 attend teaching Mass at OSJ
Monday, 4/15/19
No PREP—Easter vacation
Monday, 4/22/19
No PREP—Easter vacation
Monday, 4/29/19
6:00-7:00 PM
PREP resumes
Saturday, 5/4/19
3:00-7:00 PM
Retreat for First Communicants and families
(rehearsal, Mass, supper, making banners)
Sunday, 5/19/19
9:30 AM Mass
First Holy Communion
Monday, 5/20/19
6:00 PM
Final PREP Class—Mass and reception at OSJ