Parish Religious Education Program: PREP
(Formerly called CCD)
PREP provides Ignatian-based religious formation to children from first grade through Confirmation (usually sixth grade) not attending a Catholic school.  We require two years of instruction before the reception of a sacrament.  The program has four components:
 Teaching children the tenets and practice of our faith
Guiding children to recognize God's presence in their lives, to develop a personal relationship with God, and to learn to make moral choices based on that relationship
Preparing children for the sacraments of First Reconciliation, First Holy Communion, and Confirmation (those in Catholic school join PREP students in the celebration of the sacraments)
Fostering a sense of community for children and families in the parish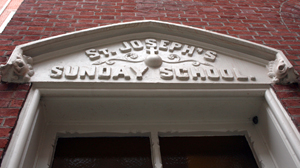 When and where:  First- through fifth-grade PREP classes meet at St. Mary's Interparochial School at 5th and Locust Sts. (enter on Locust) on Mondays from 6:00 to 7:00 PM from September through May.  The children gather in and are dismissed from the multi-purpose room in the basement.
Sixth-graders have a six-week Confirmation preparation class at Old St. Joe's on Thursdays from 4:30 to 5:30 PM prior to the Confirmation date.  The class meets in Barbelin Hall underneath the church.
Click here to download the PREP Registration Form. It is a fillable PDF form. You can type in the form and save it. Please return the form to the parish office or email the form to prep@oldstjoseph.org.
Click here to download the PREP 2017/2018 Calendar.
For further information on PREP or to become a teacher, contact, the Coordinator of Religious Education, Christine Szczepanowski at 215-923-1733 ext. 123 or 267-250-3049 (cell) or prep@oldstjoseph.org
PREP 2017-18 Calendar
| Date | Time | Event |
| --- | --- | --- |
| Monday, September 11, 2017 | 6:00 – 7:00 pm | PREP begins (grades 1-5) at St. Mary's Interparochial School (SE corner 5th and Locust Sts.—enter on Locust) |
| Thursdays, Sept. 21 – Oct. 26 | 4:30 - 5:30 pm | Confirmation class meets in the parish hall |
| Saturday, September 23 | 3:30 - 5:15 pm | Home-schoolers gathering (for those unable to attend PREP) |
| Monday, October 9 | | NO PREP—Columbus Day |
| Wednesday, October 25 | 7:00-8:30 pm | Pastor's talk for Confirmation parents in the parish hall |
| Monday, October 30 | | NO PREP—St. Mary's School closed |
| Saturday, November 4 | 10:00 am - 4:30 pm | Confirmation retreat (includes lunch). Parents join Confirmandi at 2:30 (includes rehearsal) |
| | | |
| Sunday, November 19 | 11:30 Mass | Confirmation |
| Monday, November 27 | | NO PREP—St. Mary's School closed |
| Monday, December 25 | | NO PREP—Christmas vacation |
| Monday, January 1 | | NO PREP—Christmas vacation |
| Monday, January 8, 2018 | 6:00 – 7:00 pm | PREP resumes (grades 1-5) |
| Monday, January 15 | | NO PREP—Martin Luther King Day |
| Saturday, January 27 | 3:30 - 5:15 pm | Family activity day in the parish hall (followed by optional 5:30 Mass) |
| Monday, February 19 | | NO PREP—Presidents' Day |
| Wednesday, February 28 | 7:00-8:30 pm | Pastor's talk for First Reconciliation parents in the parish hall |
| Saturday, March 10 | 3:30-5:15 | Home-schoolers gathering |
| | | (for those unable to attend PREP) |
| Tuesday, March 20 | 7:00-8:30 pm | Pastor's talk for First Communion parents in the parish hall |
| Monday, March 26 | | NO PREP—Easter break |
| Monday, April 2 | | NO PREP—Easter break |
| Monday, April 9 | 6:00 - 7:00 pm | First Reconciliation rehearsal (during PREP class--non-PREP kids are invited) |
| Wednesday, April 11 | 7:00 – 8:30 pm | First Reconciliation penance service for First Communicants and their families |
| | | |
| Saturday, April 28 | 3:30 – 7:00 pm | First Communion retreat for First Communicants & families (includes rehearsal, Mass, supper, and banner-making) |
| Sunday, May 6 | 9:30 Mass | First Holy Communion |
| Monday, May 21 | | Final PREP class |