The Old St. Joseph's Young Adult Community (OSJ YAC) aims to foster an inclusive, welcoming environment for Catholics in their 20s and 30s, single and married, interested in exploring the values of spirituality, social justice, and community as part of their lives.
Connect with us and subscribe to our weekly email newsletter at osjyac@gmail.com.  You can also join our Facebook group, and check out our upcoming events on our Google calendar. 

Regular Events
Every other Tuesday YAC meets from 7:00-9:00 PM in Barbelin Hall for Spirituality Night.  Enter Barbelin Hall by going downstairs once in the church courtyard. Please join us for food, reflection and fellowship. Details are in our Google Calendar and newsletter.
Every Sunday from 5:30-6:15 PM, a Pre-Mass Reflection Group gathers in the parish offices to read the day's Scriptures. There's time for quiet prayer, sharing and discussion; any materials will be provided. Meet at the green door at 321 Willings Alley. All are welcome!
Once a month, YAC holds happy hours throughout the city help build community within the group. Look for details in the calendar and newsletter, and please join us!
One Sunday a month, YAC hosts a Sunday Cook-out Dinner for the parish after 6:30 PM Mass. To help with the cook-outs, contact osjyac@gmail.com.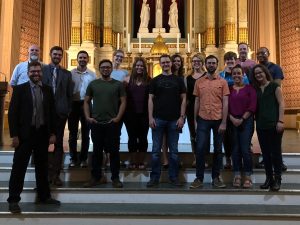 February-April 2019 Calendar of Events
| Young Adult Community Calendar of Events | | | |
| --- | --- | --- | --- |
| Events subject to change. For most up-to-date information, check out the Young Adult Community calendar | | | |
| Event Date | Time | Event | Location |
| February 3, 2019 | 5:30 PM | Pre-Mass Reflection Group | Rectory: Greaton Parlor |
| February 5, 2019 | 7:00 PM | Tuesday Spirituality Night | Barbelin Hall |
| February 10, 2019 | 5:30 PM | Pre-Mass Reflection Group | Rectory: Greaton Parlor |
| February 10, 2019 | 7:30 PM | February Cook-In | Barbelin Hall |
| February 15, 2019 | 5:30 PM | February Happy Hour | TBD |
| February 17, 2019 | 5:30 PM | Pre-Mass Reflection Group | Rectory: Greaton Parlor |
| February 19, 2019 | 7:00 PM | Tuesday Spirituality Night | Barbelin Hall |
| February 24, 2019 | 5:30 PM | Pre-Mass Reflection Group | Rectory: Greaton Parlor |
| February 24, 2019 | 7:30 PM | Post-Mass Reflection Group | Rectory: Greaton Parlor |
| March 3, 2019 | 5:30 PM | Pre-Mass Reflection Group | Rectory: Greaton Parlor |
| March 5, 2019 | 7:00 PM | Tuesday Spirituality Night | Barbelin Hall |
| March 10, 2019 | 5:30 PM | Pre-Mass Reflection Group | Rectory: Greaton Parlor |
| March 15, 2019 | 5:30 PM | March Happy Hour | TBD |
| March 17, 2019 | 5:30 PM | Pre-Mass Reflection Group | Rectory: Greaton Parlor |
| March 19, 2019 | 6:00 PM | St Joseph's Day Mass & Dinner | OSJ, Barbelin Hall |
| March 24, 2019 | 5:30 PM | Pre-Mass Reflection Group | Rectory: Greaton Parlor |
| March 31, 2019 | 5:30 PM | Pre-Mass Reflection Group | Rectory: Greaton Parlor |
| April 2, 2019 | 7:00 PM | Tuesday Spirituality Night | Barbelin Hall |
| April 7, 2019 | 5:30 PM | Pre-Mass Reflection Group | Rectory: Greaton Parlor |
| April 7, 2019 | 7:30 PM | April Cook-In | Barbelin Hall |
| April 12, 2019 | 5:30 PM | April Happy Hour | TBD |
| April 14, 2019 | 5:30 PM | Pre-Mass Reflection Group | Rectory: Greaton Parlor |
| April 16, 2019 | 7:00 PM | Tuesday Spirituality Night | Barbelin Hall |
| April 18, 2019 | 8:30 PM | Altars of Repose Walking Pilgrimage | Leave from OSJ |
| April 21, 2019 | | CANCELLED: No Pre-Mass Reflection | |
| April 25, 2019 | 5:30 PM | Spring Welcoming Happy Hour | O'Neals Pub |
| April 28, 2019 | 5:30 PM | Pre-Mass Reflection Group | Rectory: Greaton Parlor |
| April 30, 2019 | 7:00 PM | Tuesday Spirituality Night | Barbelin Hall |