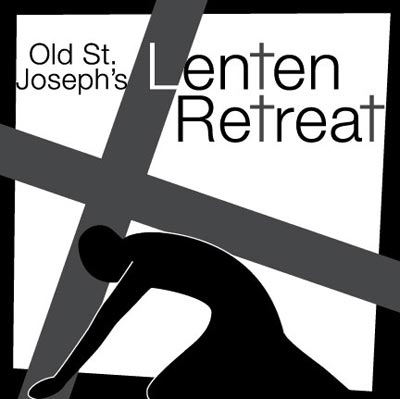 Join the Old St. Joseph's Faith Community
In Praying Our At-Home Lenten Retreat
Beginning Ash Wednesday, Feb. 13, 2013
Participation in this retreat is simple and convenient; it only requires that you spend some time in prayer each day. The parish is providing materials and programs for you to use in your daily Lenten prayers and meditations, including the following:
The Living Gospel: Daily Devotions for Lent 2013, a book of prayers and meditations provided at no charge by OSJ.
Ignatian Meditations from Father Dan, a weekly meditation by our Pastor, easily accessible on podcast.
Prayer Sharing Sessions held at convenient times and locations.
OSJ Lenten Retreat Guide, a resource to support you in your personal retreat.
http://oldstjoesphiladelphia.libsyn.com
The Ash Wednesday and First Week of Lent podcasts are already loaded on the libsyn site.
How can I participate in the OSJ Lenten Retreat?

You can register on line by sending an e-mail to osjspirituality@oldstjoseph.org
Give us your name and state that
            I would like to participate in the OSJ Lenten Retreat
You can register at Mass on the weekends of February 2/3 and February 9/10. All we need is your name and e-mail address.
After registering, you can pick up the book and retreat guide at all Masses the first two weekends in February.
Please give prayerful consideration to participating in the Old St. Joseph's Lenten Retreat. During this past Advent, over 100 of our parishioners took part in the Advent At-Home Retreat.  Their response was overwhelming that we should continue to offer this program during the most sacred times of our liturgical year.  The At-Home Retreat is one way to increase our prayer life on a daily basis as we journey with Christ to Calvary.