The Ministry of the Lector
The church has always venerated the divine Scriptures just as she venerates the body of the Lord, since from the table of both the word of God and of the body of Christ she unceasingly receives and offers to the faithful the bread of life, especially in the sacred liturgy. (Constitution on Divine Revelation, Second Vatican Council, No. 21)
When the scriptures are read in the Church, God himself speaks to his people, and
Christ, present in His own Word, proclaims the Gospel.  Therefore, all must listen with
Reverence to the readings from God's Word, for they make up an element of great importance
in the Eucharistic liturgy, the center of the Church's life. (General Instruction of the Roman Missal #29)
Following the Second Vatican Council the revision of the Lectionary for Mass represents one of the most remarkable achievements of the Church.  Those who gather week after week to celebrate the sacred liturgy have access to "the biblical word in a breadth and depth unknown for hundreds of years."1 The three-year cycle which includes most of the New Testament and significant selections from the Old Testament including the poetic and emotive power of the psalms has provided a communal discipline of contemplating on the Word, forming us in ways that we can only begin to imagine.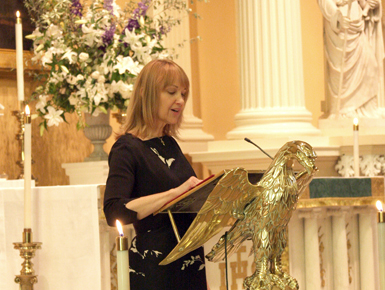 The Role of the Lector
The Lector comes to understand that he or she is performing a "real ministry of presence and communion."  Keenly aware of the Lord's presence active and present to the assembly through their proclamation, the lector is responsible for proclaiming a Word that longs to be brought forth, for the Lord longs to speak and be heard in each word they enunciate.
"[The Lector] exercise[s] a genuine liturgical function.  They ought, therefore, to discharge their office with sincere piety and decorum demanded by so exalted a ministry and rightly expected of them by God's people.  Consequently, they must all be imbued with the spirit of the liturgy…and must be trained to perform their function in a correct and orderly manner" (CSL, 29)."
Lectors are ministers, rather than just readers.  They like the priest and other ministers are conduits of God's abiding presence and function as vessels through which God meets his people, especially in the proclaimed Word.  They are people of faith who have also developed the skills to effectively bring forth and animate God's holy Word and thus, not drawing attention to themselves.  Lectors are, ministers of the word, servants to the people of God, and not performers.
Who can serve as a lector?
None of the liturgical documents insist on Confirmation as a prerequisite, although it is desirable that a Lector have received the Sacrament of Confirmation.  Lectors are expected to be men and women of faith who demonstrate a commitment to their own ongoing spiritual development.
At What Age Can One Serve as a Lector?
An important consideration in determining the age of a Lector is one's ability to understand the reading as well as its context.  One also needs to able to read clearly and audibly, comfortable connecting with the assembly through eye contact.  One must also be comfortable with silence and be able to focus the Assembly's attention on the Word of God rather than the proclaimer.
Becoming a Lector
To sign up to serve in a ministry, please visit: http://www.rotundasoftware.com/ministry/OSJ?enroll=1