What is Baptism?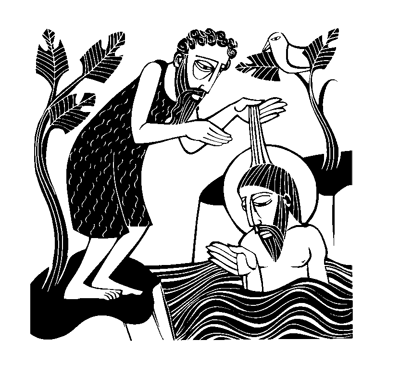 "Holy Baptism is the basis of the whole Christian life, the gateway to life in the Spirit, and the door which gives access to the other sacraments. Through Baptism we are freed from sin and reborn as children of God; we become members of Christ, are incorporated into the Church and made sharers in her mission: Baptism is a sacrament of regeneration through water in the word." (Catechism 1213) Through baptism, we become part of the royal, priestly people of God, called to holy lives of prayer and service.
Commonly Asked Questions
Are there any requirements in order to have my child baptized at Old St. Joseph's Church?
Parents/Guardians are required to be a registered parishioner here or have a personal connection with a registered parishioner (i.e. grandparents are members of the parish). In this case, a letter must be received from their own parish granting permission for the baptism indicating that they are registered and have participated in a baptism preparation class.
Who can be a godparent?
Church law requires that there is at least one godparent for the child baptized. Godparents need to be active, practicing and confirmed Catholics at least 16 years in age. Godparents need to submit written proof of registration from their parish.
Can a non-Catholic be a godparent?
No, only a Catholic can be a godparent because they are asked to promise to help support raising the child in the Catholic faith. A non-Catholic Christian can serve as official witness to the baptism as long as there is one Catholic godparent. A non-baptized person cannot be a godparent or witness.
What if the godparents can't come to the actual celebration?
You can have a proxy stand in for the godparent(s). Please let the staff know so they can record the name of the actual sponsor on the certificate.
Can I schedule a private baptism?
Old St. Joseph's Church does accommodate families wishing to schedule baptisms outside of Mass, however, baptism celebrates the initiation of the child into the parish community and it is very important that the community is present at the time of the celebration. Families are encouraged to strongly consider having their child/children baptized during one of the Sunday Masses that they regularly attend. Every month there is a schedule of baptisms on Sundays at 1PM.
Persons wanting to arrange for a baptism should call Father Edward Dougherty, S.J. at the parish offices at least one month before the desired date to arrange their catechesis and the baptism. You can reach Fr. Dougherty at mailto:dougherty@oldstjoseph.org (preferable) or 215.923.1733, ext. 121.