Funerals at Old St. Joseph Church
Why do search for the living One among the dead?
Order of Christian Funerals
In the face of death, the Church confidently proclaims that God has created each person for eternal life and that Jesus, the Son of God, by his death and resurrection, has broken the chains of sin and death that bound humanity.  Christ "achieved his task of redeeming humanity and giving perfect glory to God, principally by the paschal mystery of his blessed passion, resurrection from the dead, and glorious ascension. (Vatican Council II, Sacrosanctum Concilium, art. 5)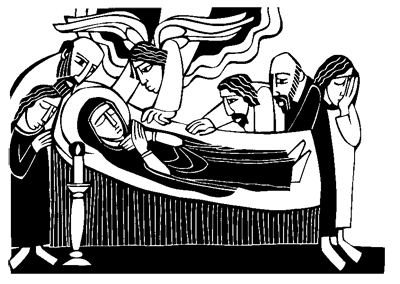 Celebration of the Gift of Life Returned To God
Christians celebrate the funeral rites to offer worship, praise, and thanksgiving to God for the gift of a life which has now been returned to God, the author of life and the hope of the just.  The Mass, the memorial of Christ's death and resurrection, is the principal celebration of the Christian funeral.
To arrange for a Mass of Christian Burial, please have your funeral director contact the pastor at the parish office: 215-923-1733.
For Music planning please contact our Music Director, Mark Bani at 215-923-1733 ext. 111 or music@oldstjoseph.org.