Welcome to OSJ!

Find out more about our church, its history, and our mission.

Food, Faith & Friends

Service. Support. Hope. Spirituality. Healing.

Weddings at OSJ

Plan your perfect wedding at beautiful Old St. Joseph's!

Join Our Parish!

Download and mail a registration form.
~ All are welcome here. ~
Worship/Mass Schedule
Sunday, The Lord's Day
5:30 PM (Saturday, Vigil Mass)
7:30 AM
9:30 AM
11:30 AM
6:30 PM
Weekday Mass
Monday through Saturday 12:05 PM
Sacrament of Reconciliation
Monday through Saturday
11:30 AM in the Church
Father Martin Talk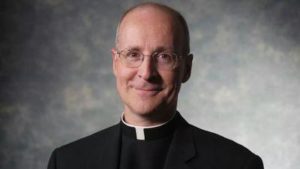 Fr. James Martin, S.J. will be at OSJ on Monday, October 30 at 7:30 PM. Fr. Martin will be speaking about his recent book, Building a Bridge, which concerns the respectful and sensitive relationship he wants to foster between the Catholic Church and the LGBT community. Join us!
Important Links