Our parish is blessed with experienced and dedicated professional pastoral ministers and administrators who assist the parish in its mission of welcoming, teaching, guiding, praying and serving in the ministry of Jesus Christ in our own day, our own time, and in our own way, always seeking the greater glory of God.
Rev. Walter Modrys, S.J. – Pastor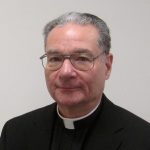 Fr. Modrys can be reached by email at pastor@oldstjoseph.org or by calling the rectory at 215-923-1733, ext 109.
Fr. Edward O'Donnell, S.J. – Parochial Vicar
Father O'Donnell became the Parochial Vicar at Old St. Joseph's in July 2010 after previously serving in that capacity at a diocesan parish, St. Teresa in Runnemede, New Jersey, and at St. Ignatius, the Jesuit parish in Baltimore. He spent many years in higher education: teaching at the University of Scranton (where he regularly assisted at the downtown Cathedral parish) and as an administrator at Xavier University in Cincinnati. He has M.Div. and S.T.L. degrees in theology from Regis College, the Jesuit Faculty in the Toronto School of Theology. A native Philadelphian, and a graduate of St. Joseph's Prep, he majored in English at Fordham University. Father O'Donnell enjoys movies, Blue Jays and Phillies baseball, walking, reading (biography, history, theology) and listening to classical music. He can be reached by email at eodonnell@oldstjoseph.org or by calling the rectory at 215-923-1733, ext 102.
Mark Bani – Director of Music Ministries
Mark Bani is a native of Conshohocken and holds degrees from the Curtis Institute of Music and from the Juilliard School. He is active as a pastoral musician, concert organist, and clinician.
Prior to joining us at Old St. Joseph's Church, Mark was music director and organist, simultaneously, at St. Thomas of Villanova Parish and at Villanova University. For nearly a quarter century he was director of music and organist at St. Vincent Ferrer Church in New York City. Mark has performed in many of the major concert halls and churches throughout the United States including the Cadet Chapel at West Point Military Academy, and in New York City at Trinity Church on Wall Street, St. Thomas Church Fifth Avenue, as well as a featured soloist performing at Alice Tully Hall as part of the Mozart Bicentennial Celebration at Lincoln Center. He has been a featured artist at both national and regional conventions of the American Guild of Organists.
In his spare time Mark enjoys gardening, hiking and fly fishing, as well as collecting antique furniture.
Christine Szczepanowski – Coordinator of Religious Education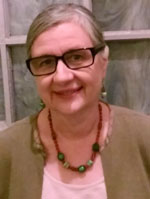 Christine Szczepanowsk has been a parishioner at Old St. Joe's for over 30 years. She has been active in the liturgical and spiritual ministries and became the Coordinator of Religious Education in 2009. Formerly she worked in the Sociology Department of the University of Pennsylvania focusing on issues of poverty and race and has volunteered at various levels in a number of social outreach organizations. She holds a B.A. in Sociology from Barnard College and an M.A. in Christian Spirituality and Certificate in Spiritual Direction from the Christian Spirituality Program at Creighton University. Christine is married to an artist, Matthew, is the mother of two grown children and a stepdaughter, and has four grandchildren. She lives in Center City in the house she grew up in.
Eric German – Business Manager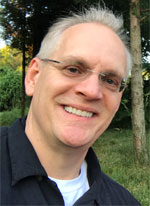 Eric has been serving the parish since 1988 in a number of capacities, including cook for the Jesuit community, organist, children's choir director and interim director of music. On the side, Eric has his own line of humorous (and some serious) greeting cards which he makes for parish staff birthdays and which are also sold at the Wanamakers General Store located in the NW corner of Lehigh County. In his spare time, he also paints Fraktur (PA German folk art) on the walls of the homes of friends, family members and clients. Since 2013 he has been the Parish's Business Manager. He can be reached by email at germane@oldstjoseph.org or by calling the rectory at 215-923-1733, ext 103.
Mary Freedman – Coordinator of the Faith Food and Friends Outreach Program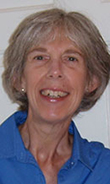 Mary Freedman is the coordinator of the Faith Food and Friends outreach program and an Old St. Joseph Church parishioner. A retired library director, Mary and her husband recently relocated to Philadelphia from New York City where Mary was an Ignatian Volunteer Corp volunteer. Mary has a long history of all things Jesuit as she graduated from a Jesuit college (John Carroll University) and was active in Xavier Mission, the outreach program of St. Francis Xavier parish in New York City.
BJ Brown – Pastoral Associate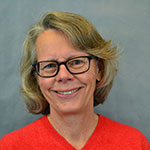 BJ enjoys exploring the history and cheap eats of her new home in Philadelphia. She tries to stay close to family, friends, good cups of tea, chocolate, paper and pencil, and books.