Wedding Preparation
Congratulations on your engagement!
Your decision to enter into the relationship of married life is a serious one, and it serves as a wonderful sign of hope and strength to the faith community of Old St. Joseph's Church (OSJ).
Your decision has been reached after much discernment and prayerful thought, but it is just the first step in the process of building a successful marriage. The community at OSJ, along with your family and friends are prepared to support and encourage you in the celebration of your wedding, as well as in your life-long commitment to each other.
The time of engagement is an important period that allows you to deepen your love and prepare for the rest of your life together. In this time your commitment to one another will grow by working together in preparation for the celebration of your wedding and looking closely at the realities of marriage. It is a time for richer dialogue, greater trust and fuller sharing of your deepest and more personal hopes, dreams and values.
The pastoral staff at OSJ offers you our encouragement and prayers as you prepare for the celebration of marriage. Marriage is a sacrament of the Church, and so, it is our desire that your wedding be a profoundly spiritual experience where your witness may truly become a model and reflection of the immense love that Jesus Christ has bestowed on all the Church.
Two Phases of Marriage preparation at OSJ
Phase I: The Assessment & Instructional Phase
Phase II: The Liturgy Planning and Preparation Phase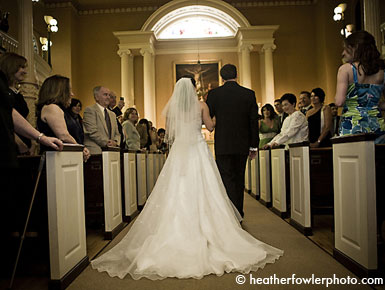 The following sets of forms and guidelines are intended to assist in a joy-filled, reverent and prayerful celebration of the Sacrament of Marriage within the context of the Church's prayer. These materials are meant to help you prepare not only for the wedding day, but for marriage, a lifetime experience of hope and joy, a faithful promise you have both chosen to offer and receive "in good times and in bad, in sickness and in health, to love and honor each other all the days of your lives!" We ask you to take the time to read these materials carefully as they have been prepared to help you in planning, as well as to promote clarity regarding the expectations and requirements for weddings at OSJ.
Couples are required to complete the Pre-Cana education class(es) prior to being married in the Church.  To learn more about arranging your Pre-Cana class, please click on this link for the Philadelphia Archdiocese.
Please click on the links below to access the Celebrating Marriage at OSJ which will guide you through Phase I of your preparation and then Wedding Music Planning at OSJ which will assist you in completing Phase II.
You will also find an MP3 player Wedding Music Sampler below which includes music files for the entire listing of recommended repertoire as well as a link to the Wedding Music Selection Form.
We look forward to working with you as you embark on this great journey. We are committed to working with you as you prepare to celebrate your wedding day and beyond.
With warm regards,
Rev. Walter Modrys, S.J., Pastor
Fr. Edward O'Donnell, S.J., Parochial Vicar and Wedding Coordinator
Mark Bani, Director of Music
Parking on your special day
At OSJ, we do not have our own parking area.
We do however have an arrangement with the Philadelphia Parking Authority for on street parking if your wedding is on a Saturday. Click here for a special placard that may be printed and displayed on the dashboards of your guests' vehicles. Please read the placards carefully and note the instructions. Please note that the placard is not usable if your wedding is on a Friday.
Guides and Forms
Wedding Music Sampler
Processional Music
Trumpet Tune in D Major • Henry Purcell
Trumpet Voluntary in D major • Jeremiah Clarke
Air in F Major • George Frideric Handel
Rondeau • Jean Joseph Mouret
Canon in D Major • Johann Pachelbel
Jesu, Joy Of Man's Desiring (Cantata no. 147) • Johann Sebastian Bach
Rigaudon (Idoménée) • André Campra
Responsorial Psalm
Psalm 103 • REFRAIN: "The Lord is compassion and love, the Lord is compassion and love." Alan Rees, Simon Lesley
Psalm 127 • REFRAIN: "May the Lord watch over this house and keep us in peace." A. Gregory Murray, Simon Lesley
Psalm 34 • REFRAIN: "Taste, O taste, and see that the Lord is good." Richard Lloyd, Colin Mawby
Psalm 128 • REFRAIN: "May the Lord bless and protect us all the days of our life." A. Gregory Murray, Timothy Blinko
Psalm 33 • REFRAIN: "The earth is full of the goodness of the Lord." J. Robert Carroll, Timothy Blinko
Offertory Music during the Preparation of the Gifts (if a Mass)
or Music after the Exchange of Vows and Rings (if Ceremony only, no Mass)
Un poco Allegro (Trio Sonata no. 4 in E minor), BWV 528 • Johann Sebastian Bach
Air (Suite no. 3 in D Major), BWV 1068 • Johann Sebastian Bach
Voluntary no. 1 in D Major • William Boyce
Pavane (Rhythmic Suite) • Robert Elmore
Fugue in G Major, BWV 577 (gigue) • Johann Sebastian Bach
Jesu, Joy Of Man's Desiring (Cantata no. 147) • Johann Sebastian Bach
Vocal Solos (Following Communion Hymn)
Ave Maria • Franz Schubert (sung in Latin)
Panis Angelicus • César Franck (sung in Latin)
Rise Up, My Love • Healey Willan
Be Thou With Them • Johann Sebastian Bach
Jesu, Joy Of Man's Desiring • Johann Sebastian Bach
Recessional Music
Trumpet Voluntary in D Major • John Stanley
Hornpipe (Water Music Suite) • George Frideric Handel
Toccata (Symphony no. 5) • Charles-Marie Widor
Trumpet Tune in D Major • David Johnson
Finale (Symphony no. 1) • Louis Vierne
Ode To Joy (Symphony no. 9) • Ludwig van Beethoven
A Trumpet Minuet • Alfred Hollins